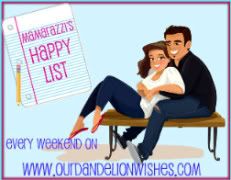 So I am pretty happy today.
Tommy is home for the weekend after being gone all week! So I am getting some much needed love and affection! Happy!
My kitchen is so cute! My grandma and I went shopping the other day and got new rugs, place mats, napkins and a valance for the fall! I mopped and waxed the floors today so it looks so good! Happy! ( I will be putting some pics on here once I finish cleaning it!)
My new insurance is in effect today! So I get to finally change my name at my doctor's office! Happy!
Today is one of those really nice days to spend outside with pants and a light long sleeve! I love days like today! Fall is my favorite! Happy!
The house smells great! I lit FIVE candles that smell like Pumpkin Spice! :) (Maybe I went a little overboard but I love the way they smell!) Happy!
Addison seems to know that her daddy is home this weekend she is moving a little more than normal! :) Happy!
I cannot wait for the leaves to change colors!! :) Happy (in anticipation)! :)
Have a Happy Saturday!