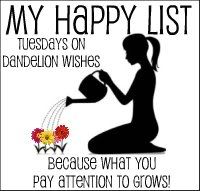 We finally got the paint for Addison's room! Its is gonna get painted this week! Super
HAPPY
!
After its painted and we get back from our trip to Tennessee I will be able to set up her room! Super
HAPPY
!
Tommy graduates Thursday! That means he will be home from now on!
Happy
!
My dog is allergic to ants and he got in a few, but it doesn't look like they bit him!
Happy
!
(I will continue to monitor him though!)
My doctor's appointment went good today! Her heartbeat was in the 140's-150's range!
Happy
!
I will be 31 weeks tomorrow! Which means not too much longer and she'll be here!
Happy
!
Hope everyone has a
Happy
Tuesday! :)